Use Somebody by Kings of Leon
I can't help but think of my boyfriend every time I hear this song. I think he even put it on a mix tape with a bunch of other songs as a gift for our 1st year anniversary! Use Somebody by Kings of Leon is probably one of my favorite love songs. Although the lyrics aren't that mushy and much of the song can be open to interpretation, I think it'd be a great choice of song to play at a wedding reception.
Kings of Leon front man, Caleb Followill has such a unique voice that I'm sure anything he sang would be music to my ears.Followill married Victoria's Secret model, Lily Aldridge in 2011 in a very intimate ceremony. According to MTV, the couple met at Coachella music festival and dated for 2 years. The song was released a year after they met so maybe Followill wrote the song about Lily?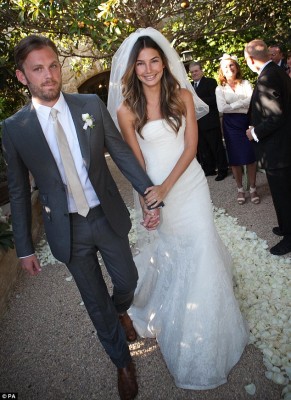 Photo by The Daily Mail
Would you play this song at your reception?
Your Bridal Trends Blogger,
Ashley