Turquoise & Pink Moodboard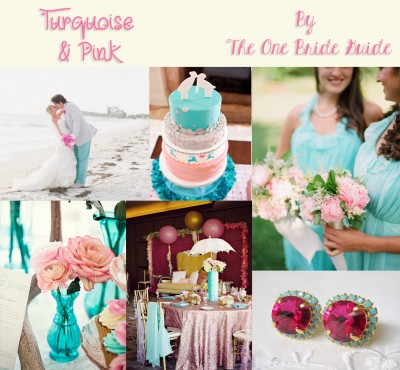 When I think of the colors pink and turquoise, I automatically think of a good time. The colors are so vibrant and cheerful that I think they'd be ideal for a summer wedding. I love how the couple in the top left corner incorporated their color scheme into the Groom's outfit too. Who says Groom's have to stick to neutral colors? Also any shade of pink and blue just naturally go so well together because they are contrasting colors.
Not only is this color scheme perfect for a summer wedding but I also think it's unique! For most wedding you usually pick a lighter color or more neutral color paired with a brighter color. However in this scheme, turquoise and pink are both bold colors. These colors are ideal for a Bride who likes to stand out from the crowd and embraces bold patterns and vibrant shades.
Would you use these colors for your summer wedding?
Your Bridal Trends Blogger,
Ashley
Photos via Wedding Chicks, Etsy, Style Me Pretty, Weddings by Lilly,Ruffled Blog , Ruffled Blog (x2)