Pinterest Pick Of The Week-Modern Meets Elegance
Attention readers!
This wedding dress is The One Bride Guide Pinterest Pick Of The Week!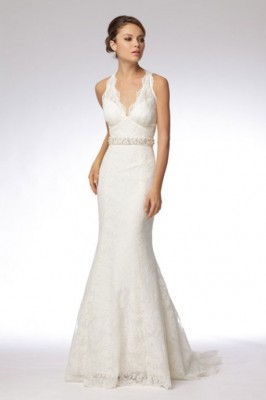 The One repinned this wedding dress 3 weeks ago and today it has remained the most popular pin on our Pinterest page. So far this wedding dress has 197 repins. With its modern v-neck, empire waist, and beautiful lace, this wedding dress can add sophistication and elegance to your fairy-tale wedding. You can find this wedding dress on Wedding Dress Bee, an online boutique that specializes in wedding dresses, bridesmaid dresses, accessories, and more for any occasion.  All of the dresses on this website are Made-To-Order.
The Wedding Dress Bee guarantee's
Classic tailoring perfect fit
Fully customizable, limitless choice
Quality construction
Personal and individual service
Affordable price
Starting today, every Friday we will announce the most popular pin we receive on Pinterest. This week's pick was a wedding dress, and next week it could be a venue, floral arrangement, accessories, or a fun creative idea to add to your big day.
We are happy to share our wedding ideas, favorite articles, and more with all of you who follow us and allow for The One to be successful. We hope that you receive great tips from our Pinterest page. Please send us your feedback including what kind of blog posts you would like to see more of, articles you found interesting that would be helpful for a bride-to-be, and remember to share your photos with us. We love hearing about remarkable wedding day stories, fun and creative ideas, and so much more!
The One Bride Guide
The One Bride Pinterest
Your friendly blogger,
-Monica B. Trevino