Must-Try Weekend Goodies
Strawberry & Lime Moscato Punch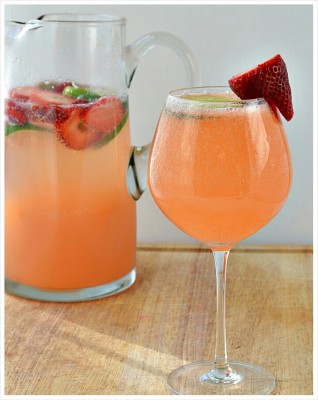 Thank God it's Friday! With the weekend ahead of us, one of the best ways to relax and take on the perfect summer weather is with a fresh drink in hand. Wouldn't you agree? This drink is so easy to make, whether for a party or if you're flying solo, that you'll find yourself making it over and over again. No judgment! Below is the recipe to this delicious drink to begin your hot, summer weekend.
Ingredients:
1.5 liter of Moscato wine
1 can frozen limeade concentrate, defrosted
1 cup of diced strawberries plus,
1 cup of sliced strawberries
1 lime sliced
2 liter 7 Up (or lime carbonated drink of choice)
Directions:
Place 1 cup of diced strawberries and 1/4 cup of limeade in a blender and puree.
Run through a strainer to remove most of the seeds.
Pour into a pitcher.
Add remaining limeade and Moscato into the pitcher
Garnish with strawberry and lime slices
Chill in fridge.
When ready to serve, top each glass with 7 Up.
Photo via: RealHouseMoms