DIY Appetizer Bites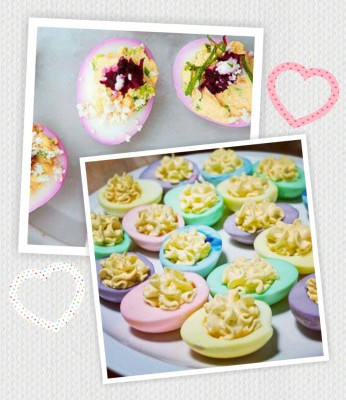 This is a fun and easy way to incorporate your wedding color scheme into the appetizers! Also, if you're working on a tight budget these deviled eggs are light on your wallet. Need we say more? They're very cute, fun and delicious!
Ingredients:
Large eggs
Food coloring of choice
Mayonnaise
Dijon mustard
Finely chopped scallions
Kosher salt
Toppings of choice (i.e. crumbled queso fresco, mint, minced jalapeño, minced beets, etc.)
Directions:
Fill a large bowl with ice and cold water and set aside. Place eggs in a large saucepan, add cold water to cover by 2″ and bring to a rolling boil.
Remove from heat, cover and let stand for 10 minutes. Drain and transfer eggs to ice water.
When eggs are cool, peel and place in another large bowl containing the food coloring of choice and refrigerate for 10 minutes.
Dry eggs and halve lengthwise. Scoop yolks into a medium bowl. Add scallions, mayonnaise, Dijon mustard, kosher salt, and a tad bit of water and stir until smooth, thinning with additional water if necessary.
Spoon yolk mixture into white egg halves and garnish as preferred.
Photos via: Pinterest and Fitness Magazine