25 Best Wedding Pinterest Boards To Follow
Pinterest is a very popular website that many people visit daily for craft ideas, tips for planning a party, wedding, event, health, daily lifestyle, and the list goes on! You can search for almost anything on Pinterest and find what you are looking for. One of the best things about Pinterest is that you can "pin" your favorite things, they go onto a specific board that you create yourself, and when you click on the image, it takes you directly to the website source. This is extremely helpful because once you find something you like, for example a do it yourself craft, you can easily find out how to create the craft and where the idea came from. When planning a wedding, you may feel overwhelmed with all of the organizing so if you would like some ideas to alleviate stress or more simple ways of creating wedding decorations, Pinterest is the perfect place for you. But, Pinterest can be overwhelming too. It's important to know which pins are actually going to give you helpful tips and not just a pretty picture. Always try to be organized, if any of your planning, whether you use Pinterest, or any other site. Write everything down and track your sources.
The pin that I found is about following the best Pinterest wedding boards out there so that you are finding the ideas that pertain to what you are planning and you won't have to be on Pinterest for hours to find it. Also, a lot of wedding plan websites have their own Pinterest page (including The One Bride Guide), that breaks down the important aspects of planning a wedding. These pins are useful for you, and we usually pin some of the most unique ideas and styles for your big day! Click the image below to see the top 25 best wedding Pinterest boards! Please share your favorite pins on Pinterest that you actually used while planning your wedding day! Thanks!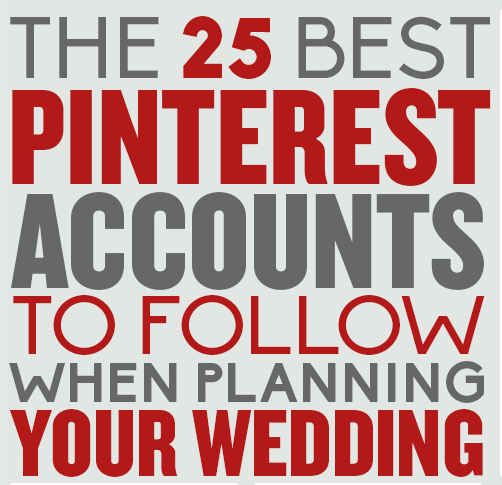 Your Sales, Marketing & PR/Blogger,
Monica B. Trevino
The One Bride Guide