The Fantastic Four!
For the February issue, The One Team wrote a very special article about the amazing, extremely talented, and professional the team at Diamond Point Catering and The Courtyard at Gaslight Square! We had an amazing time working with the staff and also working with D&P Photography. See the February issue that includes a variety of fun photos that add a twist to their article and also this issue!
Established in a city that operates like a small town, the team at Diamond Point Catering has mastered the art of doing it all. They've become a leader in creativity and developing new experiences that satisfy every sense. Even our photo shoot for this article was as unique as the team, with costume changes, scrumptious food samples, a cake fight and a dip in the fountain!
Laura Murphy, Brian Campbell, Volkan Koc and Krystle Marin make up the management team of Diamond Point Catering, who run their headquarters from The Courtyard at Gaslight Square. Diamond Point Catering and the parent company, Turnkey Events, are the connectors between many venues owned or managed by some of the same partners, including Gaslight Square, Concrete Street Amphitheater, Brewster Street Icehouse, Hurricane Alley, and the Corpus Christi Museum of Science and History. This team certainly has their hands full, helping to coordinate and produce events happening at their own five venues as well as remotely at any location under the sun. They answer to many names, so for now, we'll call them Diamond Point.
In Corpus Christi, where most clients like to be treated like old friends, Diamond Point Catering can manage events in every single venue, all on the same day, and still make you feel special. This feat couldn't be accomplished without Laura Murphy, director of sales. But she's not just filling the calendar… Laura is the one making sure every detail is covered and clients are happy. She has a ton of experience in the resort and hospitality industry,
starting her love for the business at 10 years old as a server at her parent's parties for extra money. Her combination of skills keeps the level of quality way up at the top. "It's our strengths unified," says Laura, on why they are so successful. We definitely agree!
At it's core, Diamond Point is amazing food. The big name in the amazing food business is Brian Campbell, Diamond Point's director of catering. His background is in culinary arts and he has been in a catering leadership role for many big venues over the years. Every time we have a chance to hang out with Brian, we experience food that blows our minds. It's not just food, it's edible art. He lives for creating a wow factor, especially with appetizers, and gifting the world with his mouth-watering combinations and creations. Plus he's fun. For instance, he won the world record for serving the largest number of people under one roof! We're talking 17,600  people, 1200 servers, 2.5 tons of beef and 7 miles of napkins at that Washington D.C. event! WOW! One of his latest wow foodie moments was with his margarita shrimp appetizer. A yummy shrimp skewered with a pipette filled with a taste of margarita! Taste explosion! He loves to work with themes and advises brides to use the appetizer course to take chances and have some real fun with your menu.
Volkan Koc, Diamond Point's front-of-house manager, is a huge asset to the company.  He's been in the business since he was 9 years old, helping his family at one of the biggest venues in Turkey, and had his own catering company in Turkey for 7 years before coming here. Volkan is a techie and one of those people who can figure out any problem. He's ready for anything. The staff likes to make up excuses to get him climbing in the trees at The Courtyard at Gaslight Square. He's willing and while at it, rearranges the lights into a wonderful cascade!
Krystle Marin is the event coordinator and main customer service contact with the team. She is all about making the clients feel special. She's easy to talk to and makes it a priority to alleviate stress for the bride and groom. Her background has been working with people and events through property management, real estate and planning events within those jobs. Krystle is great with style and communication. She is the candy on top of the whole package, rounding out the team with her easy, lighthearted manner that masks her dedicated, detailed side. She's the perfect person to relieve your stress and take care of things on your big day!
The Courtyard at Gaslight Square is really the darling in the collection of venues managed by the Diamond Point team. Capable of hosting small meetings to giant parties up to the thousands, The Courtyard offers an eclectic pallet in which to paint your dream wedding. Laura tells us of an event where they expanded into the parking lot with tents, flooring, fountains, chandeliers and even a fireplace! Ambiance is a key word at this venue because of the lighting details, outdoor area and variety of spaces that can be combined. Brides appreciate the "freedom to breathe" and the added interest the various areas provide guests. These days, many brides already have a set plan of what they want and the team can certainly deliver. But where they really shine is when a bride is willing to give them creative license – maybe comes to them with a theme and then Brian can come up with a menu to reflect that theme, not just in taste, but in presentation as well.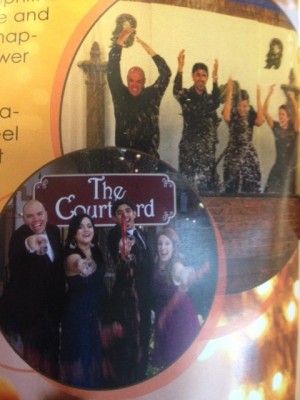 "We like to have fun," Brian says. And it shows. It's an easy group. Laughter can be heard often. But they are a serious group as well – serious about delivering the best and most creative experience they can, every time.  "We try to outdo ourselves every year," Laura says. "We are constantly on the lookout for things we can incorporate into a theme, even the most random piece of furniture or serving piece. We love the challenge."
The next step for Diamond Point is to take their expertise into more homes and private venues. They are well-equipped. With 5 vans and 3 mobile kitchens, Diamond Point Catering is ready for action. They are already booking up fast for 2014. Over the years, word has spread that this is the team to hire for an amazing wedding. Between the staff and the ownership, a combined experience of over 150 years makes it tough to compare!
Overall, the staff at Diamond Point Catering loves what they do. It's not often you find a team that communicates so well and has so much fun together and actually produces great results. "It's an exciting place to work," Laura says. We are excited to see what they have up their sleeve next!
Contact Diamond Point Catering or The Courtyard at Gaslight Square by calling
361-884-1399 or visit
www.diamondpointcatering.com.
Special thanks to: Simply Elegant by Raymond for the cake, Razzle Dazzle for decor, Bridal Boutique and After Five for the Alfred Angelo Vintage Bridesmaid dresses, and Tuxedo Junction for the menswear. See their advertisement in the current issue of The One Bride Guide-February magazine!
Your Sales, Marketing & PR/Blogger,
Monica B. Trevino