D&P Photography: Capture It Forever
The One Bride Guide always tries to have an eye catching, spectacular, beautiful cover for our readers. D&P Photography has delivered beautiful photos for several covers in past issues. The outstanding expertise of D&P Photography is exquisite and we at The One are so very happy to have created a wonderful relationship with this photography business.  Owner and creative director for The One Bride Guide- Monica McLeod Sawyer has a lovely friendship with Danney and Priscilla Boren who have so much talent to offer to clients who are seeking not just beautiful photos but memories that will last a lifetime.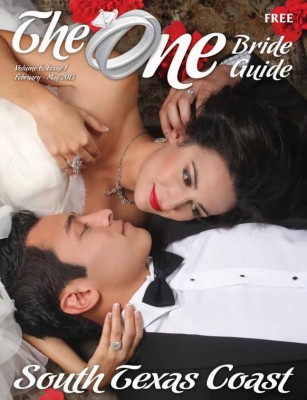 D&P Photography specializes in Weddings, Quinceaneras, and now Family Portraits. Please Call Danney and Priscilla Boren at 361-739-2143 to schedule an appointment and learn more about this amazing photography business that continues to capture moments with exceptional detail. Also, do not forget to visit their website at: http://www.dpphoto.biz and see their photography collections that will be sure to catch your eye!
The One Bride Guide is always wanting to create long lasting relationships with our advertisers. We are here to help your business prosper as well as give your business opportunities to be featured in our cover spread and more! We thank D&P Photography and all of our amazing advertisers who make The One Bride Guide so beautiful for every single issue.
The October issue of The One is currently on stands! Please pick up your copy of The One today! Click here for the distribution locations in your local area! 
Your Sales, Marketing & PR/Blogger
-Monica B. Trevino
Are you interested in being a part of The One? Sign up for our newsletter on our website www.theonebrideguide.com and learn more about becoming a contributor, advertiser, featured in a wedding spotlight, announce your engagement or wedding, submission of photos, become a distribution location and getting listed in our Off White Pages Directory!