5 Tips for using Pinterest to Plan Your Wedding
Happy Friday everyone! This week's Pinterest Pick of The Week is a helpful article about how to utilize Pinterest when you are planning your wedding.
As I am on Pinterest this morning, I was browsing around looking for quick tips for planning your big day. I saw a pin about 'using Pinterest to plan your wedding" and immediately thought "this I have to take a look at". Many of you may or may not use Pinterest for ideas, but for those of you who do I am sure you have pinned at least a few things relating to weddings. Whether you are engaged, getting married soon, helping plan a wedding, or just dreaming about your fairy-tale wedding, you have seen wedding photos, do it yourself ideas, dresses, makeup and more. With that being said, sometimes going through Pinterest boards and pins can be overwhelming because you just click click click and pin pin pin. If you are seriously looking for ideas, please take a look at this blog by Luke and Cat Photography.  On this blog, you will see an article that gives you 5 tips on how to use Pinterest for wedding planning. It is easy to pin ideas at the click of a mouse, but you have to be organized, especially  if you are seriously planning a wedding. Remember  to always ask for help when you are planning your big day. You do not want to take on too many tasks that could lead you to become a very stressed bride or groom.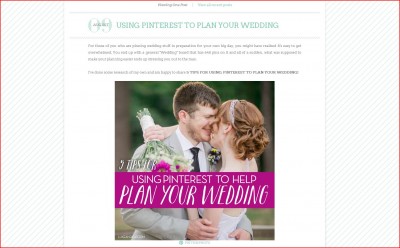 Do you have suggestions relating to this topic? Send us your feedback! 🙂
Your friendly blogger,
Monica. B Trevino
mtrevino@theonebrideguide.com