New & Exciting Developments at the Orchid Tea Garden!
Good afternoon everyone! One of our advertisers in The One Bride Guide "Orchid Tea Garden" has a lot of specials coming up that are great for anyone searching for that perfect gift during this upcoming spring season! Be sure to visit the Orchid Tea Garden and also "like" their Facebook page! Please take advantage of these awesome promotions! Thank you!
Monica B. Trevino
Sales, Marketing & PR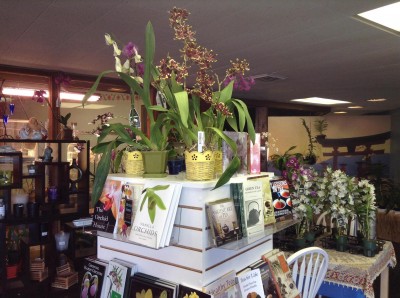 To Our Great Customers:
We are very excited to announce three (3) new developments here at the Orchid Tea Garden. I'll save the BEST for LAST.
St. Patrick's Day Special! 15% OFF of a purchase of two (2) ounces of tea 
From today until St. Paddy's on March 17th, we're offering 15% off of Irish Breakfast tea, a great tasting black tea with just the right amount of  caffeine to get your day going, and off of ALL our Green teas. We've got a great selection of ten (10) very nice green teas to choose from.
Tea Service 
We are very excited to announce that beginning on St. Paddy's Day, March 17th we will start serving tea in our shop. Since opening we have had people ask if they can get a cup of tea here and we have not been able to accommodate them. Starting on the 17th that will change. You will be able to order a cup of tea and something to nibble on. We are still working out the details on what tid-bits we will have available. We do know that our facilities will not allow us to serve anything more than finger foods, but we'll let you know the details later.
Spring Spa Special
Did you know that March 20th is the Spring Equinox, the first day of Spring? Many people consider this to be the REAL New Year's Day.
In celebration of the coming of the Spring, we are offering a BIG, NO a FANTASTIC offer for your happiness and well-being. From today until the end of business (7:00 p.m.) on March 20th, we are offering our annual Spa membership at 50% OFF. Our annual membership is based on receiving an hour-long relaxing massage every month for a year. Normally, this is a $720.00 value, but until March 20th we are offering this membership for $360.00. Come in today to hear the details and enroll. We are offering additional discounts for extra spa offerings and for our other products such as teas and orchids. (Listen for our radio ads on Jake FM and The Beach and look for our ad on Yahoo search, in coordination with the Caller.Com.)
AND, if you enroll before the end of business on Saturday, March 1st, receive a FREE orchid in addition to all the other great discounts and benefits.
Visit our Facebook page to find our 'LIKE n SHARE' photo. Find the photo, click on it and 'Like' it, then share it with your friends. Doing this will enter you into our 'LIKE n SHARE' drawing for a $50.00 gift certificate.
Bye for now!
Mark E. Weber
Orchid Tea Garden